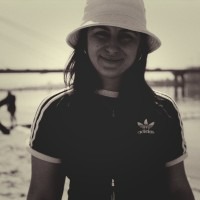 Emmanuelle Le Chat
Director's Assistant
Emmanuelle is a freelance Director's Assistant, PM, Creative Producer and Post Producer with experience across a wide range of mediums. In 2019, she partnered up with Director, Ian Pons Jewell, as his Director's Assistant on all his projects.

After just 6 months, Emm began to take more serious roles on his production team and ended up producing and post producing multiple jobs for him.

Earlier this year, Emm decided to go freelance to gain more insight into the industry and the way other Director's work. Since then, she's worked with star Directors and DOPs while continuing to work with Ian on a part time basis.
TV Commercials / Branded Content
| | | | | | | | | |
| --- | --- | --- | --- | --- | --- | --- | --- | --- |
| Date | Prod Co / Agency | Brand / Title | Type | Director | Producer | DOP | Role | Vimeo / Youtube Link |
| | | | | | | | | |
| | | | | | | | | |
| | | | | | | | | |
| | | | | | | | | |
| | | | | | | | | |
| | | | | | | | | |
| | | | | | | | | |
| | | | | | | | | |
| | | | | | | | | |
| | | | | | | | | |
| | | | | | | | | |
| | | | | | | | | |
| | | | | | | | | |
| | | | | | | | | |
| | | | | | | | | |
| | | | | | | | | |
| | | | | | | | | |
| | | | | | | | | |
| | | | | | | | |
| --- | --- | --- | --- | --- | --- | --- | --- |
| Date | Prod Co | Artist / Title | Director | Producer | DOP | Role | Vimeo / Youtube Link |
| | | | | | | | |
Shorts & Personal Projects
| | | | | | | | |
| --- | --- | --- | --- | --- | --- | --- | --- |
| Date | Prod Co | Title | Director | Producer | DOP | Role | Vimeo / Youtube Link |
| | | | | | | | |
| | | | | | | | |
August 2016 - 2018: The University of California Berkeley Bachelor of Arts in Political Science Grade Point Average of 3.89 out of 4.0
Production Companies Worked with
Final Cut Pro - Basic
Premier Pro - Basic
Photoshop - Basic
Microsoft Excel - Advanced
Microsoft Word - Advanced
Google G Suite - Advanced
iMovie
Experienced in Clearcast