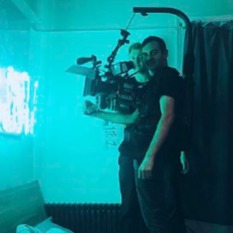 Rick Stanton
Editor
Self-Shooting Director/Editor

With over 10 years experience I have the ability to be versatile to work on projects from all stages from ideation to delivery. Including Commercial, Drama, Branded Content, Documentary, Music, Live Events, Corporate & Social.

Services include: Director/Self-shooting Director/DOP/Camera operator/Editor & Grade.

I've directed/shot/edited content and campaigns for brands including Sony, Virgin Atlantic, Apple, Amazon, Universal, Puma and many more.

I've also directed award winning short films & worked as a DOP on the feature film 'Nine Nights' that premiered at the BFI - currently available on Amazon.
TV Commercials / Branded Content
| | | | | | | |
| --- | --- | --- | --- | --- | --- | --- |
| Date | Prod Co / Agency | Brand / Title | Type | Producer | Role | Vimeo / Youtube Link |
| | | | | | | |
| | | | | | | |
| | | | | | | |
| | | | | | | |
| | | | | | | |
| | | | | | | |
| | | | | | | |
| | | | | | | |
| | | | | | | |
| | | | | | | |
| | | | | | | |
| | | | | | | |
| | | | | | | |
| | | | | | | |
| | | | | | | |
| | | | | | | |
| | | | | | | |
| | | | | | | |
| | | | | | | |
| | | | | | | |
| | | | | | |
| --- | --- | --- | --- | --- | --- |
| Date | Prod Co | Title | Producer | Role | Vimeo / Youtube Link |
| | | | | | |
| | | | | | |
| | | | | | |
| | | | | | |
| | | | | | |
| | | | | | |
| | | | | | |
| | | | | | |
| | | | | | |
| | | | | | |
| | | | | | |
| | | | | | |
| --- | --- | --- | --- | --- | --- |
| Date | Prod Co / Agency | Brand / Title | Producer | Role | Vimeo / Youtube Link |
| | | | | | |
| | | | | | |
| | | | | | |
| | | | | | |
| | | | | | |
| | | | | | |
| --- | --- | --- | --- | --- | --- |
| Date | Prod Co | Artist / Title | Producer | Role | Vimeo / Youtube Link |
| | | | | | |
| | | | | | |
| | | | | | |
| | | | | | |
| | | | | | |
| | | | | | |
| | | | | | |
Shorts & Personal Projects
| | | | | | |
| --- | --- | --- | --- | --- | --- |
| Date | Prod Co | Title | Producer | Role | Vimeo / Youtube Link |
| | | | | | |
| | | | | | |
| | | | | | | |
| --- | --- | --- | --- | --- | --- | --- |
| Date(s) | Client | Prod Co / Agency | Brand / Title | Director | Role | Vimeo / Youtube Link |
| | | | | | | |
| | | | | | | |
| | | | | | | |
| | | | | | | |
| | | | | | | |
| | | | | | | |
| | | | | | | |
| | | | | | | |
| | | | | | | |
Premier Pro - Advanced
After Effects - Intermediate
Photoshop - Basic
DaVinci Resolve - Advanced
Microsoft Office - Advanced
Producer
Director
Self Shooting Director
Editor
Motion GFX
Grade
Writer
Sound Design
Sound Recordist
Camera Operator
Gimbal Operator
Discover Film - Best Micro Short (winner)