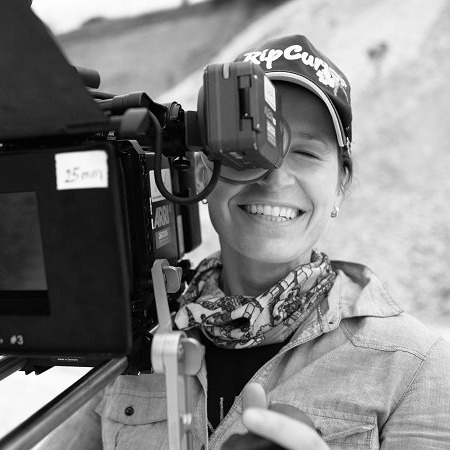 Pascale Neuschafer
Self-shooter
Pascale is an award-winning cinematographer and camera operator experienced in film, television, documentaries and commercials. In 2021 she won "Best Documentary Cinematography" at both the Canadian Cinematography Awards and the European Cinematography Awards, for her work on the hybrid documentary short "I am Chuma". Her work has been screened across the globe with notable festivals including BFI Flare, Hot Docs, Venice Shorts, Inside Out and the Durban International Film Festival.

She holds an MA in Cinematography (with distinction), from Goldsmiths, University of London, where she trained under Witold Stok, BSC and is a member of the ICFC.

Currently based in London, Pascale is able to work and travel internationally, as she holds both an EU and a South African passport.
TV Commercials / Branded Content
| | | | | | | |
| --- | --- | --- | --- | --- | --- | --- |
| Date | Prod Co / Agency | Brand / Title | Type | Producer | Role | Vimeo / Youtube Link |
| | | | | | | |
| | | | | | | |
| | | | | | | |
| | | | | | | |
| | | | | | | |
| | | | | | | |
| | | | | | | |
| | | | | | | |
| | | | | | |
| --- | --- | --- | --- | --- | --- |
| Date(s) | Prod Co | Title | Producer | Role | Vimeo / Youtube Link |
| | | | | | |
| | | | | | |
| | | | | | |
| | | | | | |
| | | | | | |
| --- | --- | --- | --- | --- | --- |
| Date | Prod Co | Title | Producer | Role | Vimeo / Youtube Link |
| | | | | | |
| | | | | | |
| | | | | | |
| | | | | | |
| | | | | | |
| | | | | | |
| | | | | | |
| | | | | | |
| | | | | | |
| | | | | | |
| | | | | | |
| | | | | | |
| | | | | | |
| | | | | | |
| | | | | | |
| | | | | | |
| --- | --- | --- | --- | --- | --- |
| Date(s) | Prod Co | Title | Producer | Role | Vimeo / Youtube Link |
| | | | | | |
| | | | | | |
| | | | | | |
| | | | | | |
| | | | | | |
| --- | --- | --- | --- | --- | --- |
| Date | Prod Co / Agency | Brand / Title | Producer | Role | Vimeo / Youtube Link |
| | | | | | |
| | | | | | |
| | | | | | |
| | | | | | |
| | | | | | |
| | | | | | |
| | | | | | |
| | | | | | |
| | | | | | |
| | | | | | |
| | | | | | |
| | | | | | |
| | | | | | |
| | | | | | |
| | | | | | |
| | | | | | |
| | | | | | |
| | | | | | |
| | | | | | |
| | | | | | |
| | | | | | |
| | | | | | |
| | | | | | |
| --- | --- | --- | --- | --- | --- |
| Date | Prod Co | Artist / Title | Producer | Role | Vimeo / Youtube Link |
| | | | | | |
Shorts & Personal Projects
| | | | | | |
| --- | --- | --- | --- | --- | --- |
| Date | Prod Co | Title | Producer | Role | Vimeo / Youtube Link |
| | | | | | |
| | | | | | |
| | | | | | |
| | | | | | |
| | | | | | |
| | | | | | |
| | | | | | |
| | | | | | |
| | | | | | |
| | | | | | |
| | | | | | |
Afrikaans - conversational
MA Cinematograhy - Goldsmiths University of London
BDram Hons - University of Stellenbosch
Final Cut Pro - Intermediate
Premier Pro - Advanced
After Effects - Basic
Photoshop - Intermediate
InDesign - Basic
Lightroom Adobe Audition
Valid 1st AID certificate until No
Valid driving license
Winner "Best Documentary Film Cinematography" – European Cinematography Awards (2021) Winner "Best Documentary Film Cinematography" – Canadian Cinematography Awards (2021) Winner "Best Documentary Film" – New York Cinematography Awards (2021) Shortlisted "Best Cinematography" – Watersprite Festival (Cambridge
2017) Winner "Best Children's Short"
Indie Short Fest (Los Angeles 2019) Winner "Best Children's/Family Short"
Calcutta International Cult Film Festival (Calcutta
2019) Winner "Best Children's Short"
Independent Shorts Award (Burbank
CA 2018) Bronze Remi Award
Worldfest Film Festival (Houston
2019) Nominated "Best Indie Short"
Indie Short Fest (Los Angeles
2020) Semi-Finalist
Hyperwave Film Festival (Los Angeles
Spring 2019) Nominated "Best Fantasy Short" & "Best Young Actress"
Independent Shorts Award (Burbank
CA 2018) Nominated "Best Children's Short"
Short to the Point & International Short Film Festival (Romania
2019) Winner - African Story Challenge (2014)