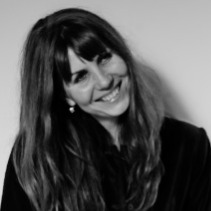 Wiktoria Deero
Hair & Make-up Artist in Features & TV Drama
Trained at DMFA Make–up & Hair Academy in London. Wiktoria is a qualified Film, TV & Fashion Make-Up and Hair Artist.

Her work includes feature films, TV commercials, corporate videos, short films, fashion editorials and music videos. She is always eager to increase her industry experience and excited about expanding her skills and knowledge within the entertainment and fashion industry with the opportunity to grow with each project.
Film /TV/ Fashion Make-Up & Hair Artistry London DMFA Academy
MA Painting
Fine Art / Wimbledon College of Art London
BA Painting Fine Art / National Academy of Fine Arts Cracow Poland.
TECHNICAL AREAS OF EXPERTISE FILM TV & FASHION MAKE - UP: traditional make-up application for 4K - high definition & all film formats (including photographic) on all skin types and ages.
HAIR STYLING: contemporary hair styling on all hair types.
CORRECTIVE MAKE –UP & HAIR - MALE GROOMING: corrective make-up & grooming techniques
HAIR & MAKE –UP FOR CHILDREN: experience working with children age 5 – 18 years old.
CHARACTER & PERIOD HAIR & MAKE UP
SFX & PROSTHETIC: handcrafted out of kit casualty effects; silicone appliance application and maintenance; handcrafted flat mold 3D transfer appliances; multi piece appliances; aging & dirtying down; dead body effects etc.
A COMPREHENSIVE KNOWLEDGE OF MAKE -UP AND HAIR TOOLS AND PRODUCTS.
PRACTICAL UNDERSTANDING OF TV
FILM COMMERCIAL AND FASHION PHOTO-SHOOT SET ENVIRONMENT
SCRIPT/CONCEPT/ MOOD-BOARD ANALYSIS
EXCELLENT & PRECISE CONTINUITY SKILLS